Meet Dr. Ben Wild, a passionate optometrist who has joined our team in Peace River. Dr. Wild is a recent graduate from the University of Waterloo School of Optometry who, as an optometrist, is eager to help educate people about the importance of their eye health. Keep reading to learn more about Dr. Wild and the skills and enthusiasm he brings to the team.
What's your current role at FYidoctors?
Optometrist
Briefly describe your educational background and training locations.
I started at the University of Ottawa receiving an Honours Bachelor of Science in biopharmaceutical science, majoring in medicinal chemistry. I also received a Master of Science in cellular and molecular biology through the Children's Hospital of Eastern Ontario (CHEO). My optometry education included the University of Waterloo School of Optometry graduating with dean's honour list distinction in 2018.
I had the tremendous opportunity to intern at Houston Eye Associates working under cornea, cataract, refractive, paediatric, retina, uveitis, and general ophthalmologists. I was also able to intern at Merivale Eye Care in Ottawa working with athletes and traumatic brain injury patients.
What makes your clinic a unique place to work?
Two young ODs working closely together with the main objective of helping patients and each other creating a very warm and inviting office atmosphere for patients and fellow staff.
What made you want to work in eye care?
My aunt is an optometrist and was my main reference for the career path. I always knew I wanted to be in a position where I could educate people about the certain health conditions they had and play a part in enhancing lives in general. I found out optometry allowed me to do this in an upbeat environment. I appreciate the true meaning of the term "doctor" as being primarily an educator.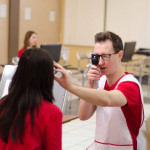 5. What do you love most about your job?
Talking to people about their lives, how they live them, their experiences and outlook on life, and how I can help make their lives better. I get great satisfaction in knowing I can do this everyday.
6. What's one of the most challenging parts of your job?
Being a new grad, the most challenging part is efficiency. I enjoyed being able to perform the wide variety of tests we learned in school, but the reality is there is not enough time during an exam to do so. Finding the most effective tests for the right situations can be tricky while under the spotlight.
7. What's one of your favourite moments from working at the clinic?
My favorite moment [so far] occurred when a patient, who was denied a learner's permit due to vision, could see clearly for the first time. The pure amazement and joy get me every time.
8. Where do you see the future of eye care going?
I think optometry will become increasingly like family medicine. Optometrists will be expected to see more patients in shorter exam periods to deal with the ophthalmology shortage. This means there will be a greater need for opticians and optical assistants to step in and provide the excellent service for which FYi is known.
9. What is the most important advice you want to give your patients?
7 out of the 12 cranial nerves that control the body affect the eye in some way, and the eye is the only structure in the body where you can directly see the health of blood vessels and nerves. It is important to get an eye exam, even when you have "good" vision.
10. What's your personal eyewear style?
I grew up hating the look of glasses. I needed correction first in grade 7 and wore contacts exclusively for 12 years following. I have come to enjoy rectangular round edge frames in tortoise or matte colours. I now wear glasses almost full time. Contacts are only worn for hockey or the gym.
11. Where would we find you when you're not at FYidoctors?
I would be out on the golf course during the summer, playing hockey during the winter, travelling throughout the year, or on my computer studying everything from finance to web design.
You can visit Dr. Ben Wild at FYidoctors – Peace River, or find another optometrist on our locations page.