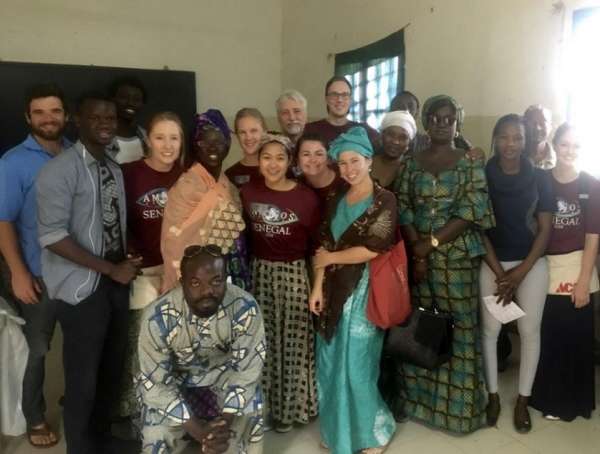 What's your current role at FYidoctors?
I am an optometrist at the new partner of FYidoctors, Keefer Place Optometry and at FYidoctors – Granville Mall.
Briefly describe your educational background and training locations.
I completed my undergraduate studies at McGill University studying Psychology and Sociology. I then went on to complete my Doctorate of Optometry at the Pacific University College of Optometry in Oregon. During my externship year, I was able to train under the guidance of optometry and ophthalmology attending physicians in Utah, Colorado, and Washington State. I've also had the pleasure of travelling to Senegal, West Africa, twice on eye care missions with Student Volunteer Optometric Services to Humanity.
What makes your clinic a unique place to work?
Keefer Place Optometry specializes in orthokeratology for myopia control. Other clinics don't usually offer these services, so it's really special to be able to provide it to our patients. Plus, we get to see a lot of cute kids! Granville Mall has an array of technology that really allows us to provide well-rounded care for our clients right in our clinic, without having to send them all over town.
What made you want to work in eye care?
I've always known I wanted to work in health care. My grandmother had a retinal detachment when I was 12 years old, and that really got the ball rolling towards optometry. It made me think about how important our vision is in our day-to-day life, and how special it is to help others maintain happy and healthy eyes.
What do you love most about your job?
It's a great balance between work and social interaction. I love the care that I can provide for patients, and I get to meet all sorts of fascinating people every day.
What's one of the most challenging parts of your job?
I could talk about eyes all day, so one of the most challenging parts is making sure I respect each of my patient's time, while providing great care and education.
What's one of your favourite moments from working at the clinic?
It was at the start of my exams. I usually greet my patients with a simple "how are you?" before we dive deeper into the reason for their visit. One day, I had a younger patient come in. I asked him "how's it going?" to which he responded, "better than good". For some reason, this really caught me by surprise and made me pause. Most of the time, even in our everyday lives, people simply respond with "good". This unexpected response really made me think and since then, I often come back to it. The memory motivates me to always strive to have a better-than-good day or give a better-than-good eye exam.
Where do you see the future of eye care going?
The biggest thing would be technology, and the reason is two-fold. Technology will undoubtedly help advance eye care by providing us with more information and efficiency about each patient and their eyes. At the same time, technology is going to lead to more eye problems as the dependence on digital devices grows. Optometry will need to focus even more on prevention and early diagnosis of conditions such as ocular surface disease and myopia progression. Education is key.
What is the most important advice you want to give your patients?
It never hurts to ask. You are the best advocate for your health. Whether that pertains to the eyes or the rest of the body, if you have questions or need clarifications, don't be afraid to talk to your doctor.
What's your personal eyewear style?
I am an ortho-k wearer myself, so I don't usually wear glasses. I do, however, love a good pair of vintage-style sunglasses that look slick AND protect my eyes.
Where would we find you when you're not at FYidoctors?
I love the outdoors. I really enjoy hiking, running, and rock climbing. Vancouver weather isn't always the friendliest for all of the outdoor adventures, so sometimes I have to nestle in a good coffee shop with a great book or try to get myself to a Canucks game.
Book an appointment with Dr. Chan today at FYidoctors Keefer Place, or Granville Mall.