Back to Community Company Highlights
Employee Spotlight: Jessica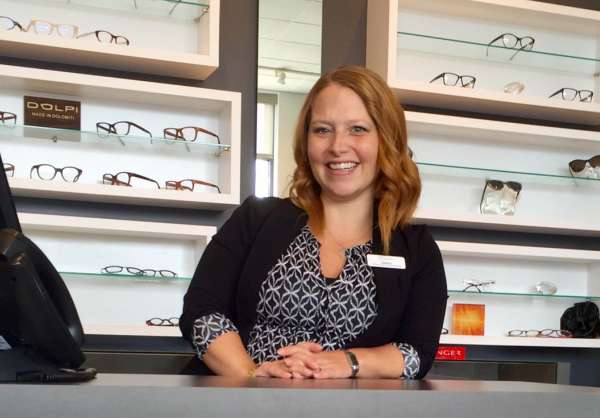 What's your current role at FYidoctors?
I am a Practice Coach / Licensed Optician. As practice coach, I am responsible for managing all aspects of our clinic in addition to the regular duties of a licensed optician. It is however, different than a traditional management role, because it includes the coaching and development of our team members, supporting them and really ensuring that we maintain a great culture – which in turn enables us to provide the high standard of patient care that FYidoctors is known for.
2. What made you want to work in eye care?
After first going to college to be a correctional worker of all things, I decided that I needed to work for a few years before deciding what I wanted to do. After working in a lot of different jobs, everything from being a janitor, to serving fast food, to working in factories, I knew that I still wanted a job where I could help people, and I finally got a job in an optical office. We had an amazing manager, who was really more of a coach than a manager. She inspired me to take it a step further and pursue a career in optical, and in a leadership role. I moved three hours away from home for two years and became an optician... and eventually I landed my dream job as a Practice Coach/Optician here at FYidoctors.
3. What do you love most about your job?
I love that no two days are ever the same. Today I could be back-to-back with contact lens fits, or out on the dispensing floor with patients. Tomorrow I could be in the lab, or more focused on supporting a team member by coaching them through a unique situation, or helping them in their journey of professional development. I love that our company places so much importance on a coaching culture, rather than "managing people".
4. What's one of the most challenging parts of your job?
The challenging part of my job is that I am required to switch gears and shift my focus to a new task at the drop of a dime. As much as I love the spontaneity of it, I also have to be very conscious to manage my time wisely so that I can still complete everything on my to do list.
5. What's your personal eyewear style?
The funkier the better!
6. What's one of your favourite moments from working at the clinic?
The day I fit a 3-year-old with glasses, and I came down to his level for a high five, and he instead gave me a huge hug and planted a kiss on my cheek. He melted my heart!
7. Where do you see the future of eye care going?
Patients today are so much more health conscious than in previous generations, so I believe that the leaders of our industry will be at the cutting edge with their technology, and equipped with the knowledge to properly educate patients, and help them make informed decisions on quality eyewear products. The other thing about today is that since we are so fast paced, with so much available to us at the click of a button, we place a very high importance on convenience and selection. FYidoctors offers all of that and more.
8. What's your favourite eye-friendly snack?
Well... I'm pregnant so all snacks look good to me!
9. Where would we find you when you're not at FYidoctors?
At home on the floor playing trucks with my 3-year-old boy. Or doing laundry.
10. What is your favourite book/series of all time?
I love anything by Mitch Albom.
11. What was your favourite subject in school and why?
In high school it was art, because I was free to be creative. In college it was Optics. I found the physics very fascinating.
12. How would you define your eyewear fashion? (if you wear glasses) If not: What eyewear trends are you most excited about?
For my glasses, I love anything that is different. I'm excited about the fact that people actually want to wear glasses these days, and that glasses don't carry the same stigma that they used to. The most fun and exciting thing for me is that people actually come in wanting something different that no one else will have. They want their eyewear to be noticed, and that makes it fun.