This October FYidoctors launched our inaugural national fundraising campaign for our FYidoctors | Visique Enhancing Life Foundation. Our foundation supported 80 charitable organizations and community outreach programs across Canada in the month of October and will be supporting many more in the months to come. To us, enhancing life means bettering our society, helping others and catering to the underserved populations of Canada through financial and social support. We believe all Canadians deserve the best in areas such as education and health and wellness. Our goal for 2019 is to raise 200,000 towards our foundation, which all our clinics will be able to access towards donations within Canada.
October was particularly special because we celebrated Enhancing Life Day on October 24th. On this day, FYidoctors and Visique clinics across Canada fundraised and promoted a charity of their choice. We are proud of the collective effort shown throughout our clinics. The impact of our fundraising efforts is testament to how far the idea of enhancing life can travel when we all work together. Here are some Enhancing Life Day highlights from our clinics.
Bloor Islington FYidoctors Clinic: Famous PEOPLE Players "Funraiser"
This clinic chose to partner with the educational programs at Famous PEOPLE Players, a company that specializes in glow in the dark theatre and works with over 2 million students across the world to develop interest in the arts and build confidence through drama performance. On Enhancing Life Day, they set up blacklight puppets and props in the retail level of Bloor Islington Place. Their presence in this busy area helped raise awareness for their cause and allowed patients, staff and merchants to take pictures with the theatre group. Donations totaled nearly $2000, an incredible feat for a worthy cause.
Regina Grasslands FYidoctors Clinic: Saskatchewan Cancer Society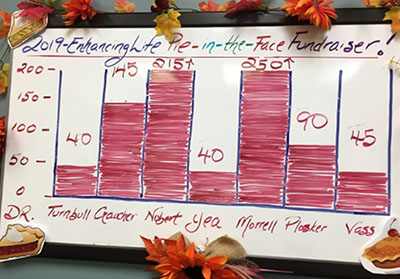 The clinic at Regina Grasslands had a little fun with their "Pie in the Face" fundraiser for the Saskatchewan Cancer Society. Doctors at this clinic volunteered to have a pie splattered into their faces in order to raise money for cancer research and awareness. Other activities included a baby pool, raffle basket and chili lunch. Apparently, the lucky doctor to get pied chose a key lime pie! An incredible creative effort for this Enhancing Life Day fundraiser.
Sechelt-Sunshine Coast FYidoctors Clinic: The Sunshine Coast Hospice Society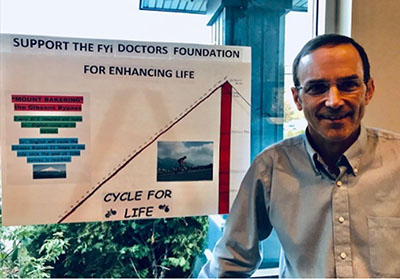 Dr. David English of the Sechelt-Sunshine Coast FYidoctors clinic decided to use his cycling endurance to raise money for the Sunshine Coast Hospice Society. For every $10 donated, he committed to riding 50 metres along the Gibsons bypass, a very steep hill along the coast! Since the clinic raised $640, this translated into Dr. English cycling 3286 metres, or 21 times up and down the bypass. We are awed by the effort of this clinic and the dedication of Dr. English to cycle that distance and exemplify what it means to enhance the life of others.
These are just a few examples of how our clinics decided to make a difference across the country. Together, we made an impact in our communities and spread awareness about the causes that matter to us. October is over, but this doesn't mean we will stop. We will still be fundraising throughout the year and hope to raise our goal of $200,000 for the fund in 2019. The FYidoctors | Visique Enhancing Life Foundation will continue to give to a wide array of philanthropic causes and advocate for important issues such as health and wellness and education for Canadians for years to come. Read more on our website and join us in making a positive impact in Canada.