Recently, Olympic athlete Alex Kopacz stopped by FYidoctors to pick up a pair of Nike Maverick sunglasses. We chatted with Kopacz to learn a little more about the gold-medallist and his thoughts on eyecare.
You may know Kopacz as one half of the two-man bobsleigh team that tied for first place with Germany in the 2018 PyeongChang, South Korea, Olympic Games — an experience the 29-year-old describes as surreal.
"Disbelief is the easiest way to sum-it-up," he says. "To be tied with such a good team was a pleasure."
But what you may not know, is that Kopacz's life outside of his sport is as fascinating as racing down a bobsleigh track at breakneck speeds.
"I love music, whether I am playing or listening," says Kopacz, who plays both the violin and the piano. "I also grew-up doing a lot of dance lessons and like to salsa for fun."
Kopacz, whose family hails from Polish descent, speaks four languages and is learning a fifth. His multilingual skills come in handy while travelling — a pursuit Kopacz feels passionately about.
"Meeting new people and going to new countries is extremely exciting," he says, adding that he recently completed a mission trip to Thailand with the USANA True Health Foundation where he worked with youth who have been human trafficked.
"When you actually give back physically to groups of people who have been damaged it is a really powerful feeling," he says. "It is rewarding in a deep sense — deeper than winning a medal at sports.
"It is something that matters on a global scale. You are fighting for someone's life, helping them to heal from the trauma they just went through. That really lasts."
Being active is also big part of Kopacz's lifestyle — and the more time spent outside the better. He says that having a reliable pair of sunglasses is key to achieving comfort while walking his new puppy, riding a bike, going for a run, or training outdoors.
Additionally, having a pair of sunglasses that are comfortable, durable and suit Kopacz's European-influenced sense of style — he spent three summers studying in Germany — are key considerations.
Kopacz's Nike Maverick sunglasses — that he received as part of a gift certificate to FYidoctors from a pro-golf tournament while visiting Calgary — fit the bill.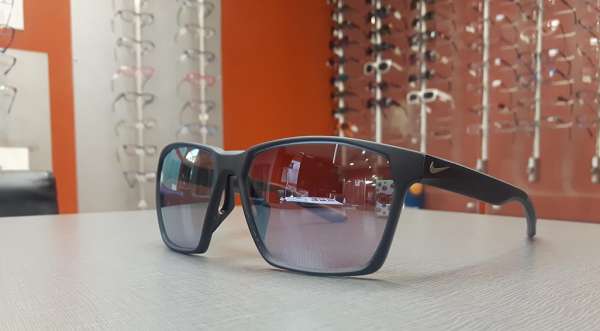 "FYidoctors is a great company," he says, adding that the overall knowledgeability of the staff at the St. Thomas, Ont., location was impressive.
Kopacz also notes how his optometrist was very open, friendly and helpful — taking the time to answer his thorough questions.
Although Kopacz opted to go for sunglasses that weren't prescription, the staff at FYidoctors offered to add a semi-transitional feature to his lenses. This feature enables the sunglasses to darken or lighten slightly depending on the brightness outside.
"It's variable so that you can have better vision on the road and you don't have to take the sunglasses off-and-on as much," he says. "They fit great, the lenses are awesome and they are super light and flexible."
Kopacz's sunglasses are also polarized.
"The reduction in glare is huge — when you have polarized glasses you see more features and more details, especially if it is snowy outside," he says.
Kopacz has been wearing glasses since he was attending post-secondary. He graduated from Western University and has two degrees in engineering and physics.
He says that while he may have put-off getting his eyes checked, he wishes he had gone to see an optometrist sooner and recommends that all young people go in for regular eye exams.
"Getting your eyes checked is a no brainer. Working hard is a headache anyways, why add to the headache by straining your eyes?" he says, noting that focusing on screens is especially difficult if you are not aware you have an eye condition like an astigmatism.
After putting it all on the line during the Olympics, Kopacz will be focusing on developing his professional career as an engineer.
"I have some opportunities on the horizon and would like to capitalize on that," he says. "Whether it is manufacturing or the medical industry, I am just open to a new challenge where I can use my imagination and be part of an exciting workplace."
From a sport perspective, Kopacz says he is looking forward to getting healthy and staying active.
To follow along with Kopacz, check him out on Instagram @alexanderkopacz and visit your local FYidoctors clinic to learn more about our available sunglass options.