Over the past few months, FYidoctors clinic services have evolved to help ensure our patients are safe. You may be wondering what procedures we will be implementing at your local clinic due to COVID-19, and what happens when the FYidoctors near you reopens.
Rest assured, FYidoctors is committed to providing comprehensive and safe eye care in every circumstance. We are here to help you navigate these uncertain times by maintaining across the board safety protocols—ensuring all your interactions with FYidoctors eye care are worry-free and safe.
So you can better understand what to expect at clinics open for essential services only and clinics that are reopening for regular comprehensive eye exam appointments, we are providing a detailed overview of our services at each: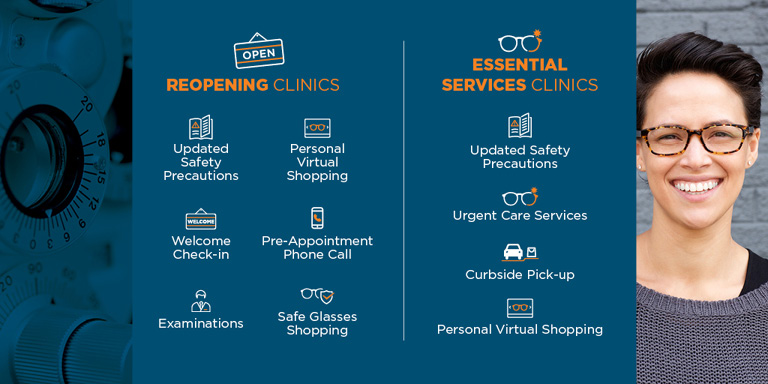 Reopening Clinics
As the COVID-19 situation evolves, some clinics across the country will be reopening. We've implemented rigorous safety guidelines that prioritize your health and wellbeing. Even though we will be wearing masks, you'll still be greeted with a smile!
Pre-appointment Call
Before you visit the clinic, some clinics will be administrating a pre-appointment call to review your case history. This is very similar to the conversations you would normally have with an optician upon your arrival to the clinic. Our staff is trained in privacy best practices and your information will only be shared with your doctor through your official patient file. This phone call will ensure that your ultimate visit is as efficient and safe as possible.
Welcome Check in
We look forward to seeing you again at your next visit. You'll notice a few changes to our process that will benefit both our patients and staff. When you arrive, you'll notice staff will be wearing masks and you will be asked to wear one as well. We will be happy to provide you one if needed. You will also be asked to wash your hands immediately at our hand washing station.
During check in we will ask you if you are feeling ill, have any COVID-19 symptoms or if you have traveled outside of Canada in the last 2 weeks. If any of these factors exist, you'll be asked to reschedule your appointment to ensure infection control. We may also take your temperature.
You will then be issued a numbered card to keep track of how many patients are in the clinic at a given time. In the waiting room, there will be fewer waiting room chairs positioned 2 meters away from each other to encourage physical distancing.
Examinations
Regularly disinfecting the clinic is always a top priority. Before your appointment, all our pre-test and examination rooms as well as equipment will be sanitized. Your doctor will also maintain your conversation at a distance to ensure physical distancing as an added precaution to your visit.
Shopping for Glasses
If you would like to shop for glasses during your visit, we also have safety precautions for this transaction. Our opticians will help select frames for you to try on, which will be placed in a tray at a safe distance between you. Don't worry, all frames are disinfected before and after each use.
Our virtual shopping and curbside pick-up services will still be in effect at our reopening clinics, which you can utilize if you would prefer to shop from home.
We know that you may be feeling anxious and concerned about this transition period and how it may affect your daily routines and eye care. FYidoctors is here for you, as the situation evolves, we will be responding at every junction to ensure your experience at our clinics are safe and caring as they always have been.
Those Clinics Open for Essential Services Only
While some clinics are currently only open for essential services, these locations are still offering a wide-range of services to meet your eye care needs at every level.
Urgent Care Tele-Optometry Services
We understand that having an urgent eye care incident is stressful, especially when the COVID-19 situation brings uncertainty to many aspects of your life. This is why at certain locations we are offering rapid and thorough tele-optometry services. Our opticians will answer the phone and redirect your urgent call to the appropriate optometrist who will triage your eye care concerns. They will either give you medical advice by phone or coordinate an in person follow up for a safe examination if required.
Curbside Pick-up
All your eye care supplies are still readily available. You can call your local clinic to order replacement glasses, contacts, new eye wear and over the counter supplies. Once your order is ready the clinic will either phone or email you to schedule a pick-up time that works best for you. When you arrive to pick up your order, you can phone the clinic or knock on the door. A staff member will bring your order outside at a safe distance or bring it to your car if desired.
Virtual Shopping Service
Looking to shop for a new pair of glasses? Our virtual shopping service allows you to shop and select glasses from the comfort of your home. Through an online video chat platform, one of our eyewear consultants will share personally curated frames just for you based on your face shape, skin tone, complexion, hairstyle, eye colour, height of your ears, and even your lifestyle.
Safety Precautions
As doctors, we understand sanitization, hygiene and safety protocols are of utmost importance. All our clinics have ensured the appropriate safety precautions are being met. All staff have been thoroughly trained and tested on these protocols. This includes:
- Triaging patients over phone to ensure COVID-19 symptoms are non-existent before coming into office.
- Patients are asked to call ahead in order to control patient flow and number of people in the clinic.
- Patients will be asked to wash/sanitize their hands upon arrival. Additional bottles of hand sanitizer have been places around the clinic for patient use.
- All books and magazines have been removed from clinics.
- Each lane and area of clinics have their own disinfection supplies.
- Staff and doctors wear Personal Protective Equipment as appropriate.
- All clinics follow daily disinfection protocols.
FYidoctors is here for our community. While there are many new clinic procedures, we are still providing the same excellent care. Whether your local clinic is reopening or is only open for essential services—we are doing everything we can to create a safe, welcoming and caring environment.
If you have any eye related concerns, please contact a clinic near you to schedule an appointment or speak with an optometrist today. We look forward to seeing you again soon.