FYidoctors Varsity is situated in one of Calgary's most established, diverse and beautiful communities. The clinic is perfectly positioned to support a community that values personalized care with a family-centered touch.
As associate optometrist at this location, Dr. Brent Wilkinson is as passionate about offering a fun and welcoming environment as he is about providing a quality eye care experience. Read more of his story below.
What is your current role at FYidoctors?
I am an associate optometrist at the FYidoctors clinic in Varsity. I have also worked at our locations in Canmore, Banff, McKenzie Towne and Aspen Landing.
Briefly describe your educational background and training locations.
I have an undergraduate degree in Physiology from the University of Saskatchewan (Saskatoon). I earned my doctoral degree in Optometry from the New England College of Optometry (Boston, MA, USA).
What makes your clinic a unique place to work?
With five optometrists practicing as a team, we are a large and busy practice. We see a wide range of patients (I have seen everyone from newborns to patients over 100 years old) and have a great team of friendly and personable staff.
What made you want to work in eye care?
When I got my first pair of glasses in grade four, it was AMAZING to finally see objects clearly in the distance. I couldn't believe that that was how well I was supposed to see! I wanted to provide that same feeling of amazement and discovery to my patients.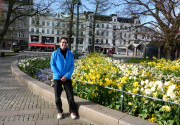 What do you love most about your job?
Interacting with new people. I have met people from all over the world from almost every background just through eye exams.
What's one of your favourite moments from working at the clinic?
I always enjoy everyone having fun and dressing up for Halloween. It's nice to inject some fun into the clinic when the days start getting shorter and colder.
What excites you about the future of eye care?
Technology with regards to disease treatment excites me. There is a lot of stimulating research when it comes to helping the body regenerate and possibly restore vision in someone who had originally been told there is no treatment for their condition.
What is some important advice you always give to your patients?
Prevention is always better than treatment. Taking good care of yourself and your eyes in the moment will pay dividends in the future. Always wear sunglasses and sunscreen!
What's your personal eyewear style?
I like a few different things. I enjoy the classic round tortoise shell frames, but I also really enjoy my crystal frames with mirrored aviation lenses. So, I would say I am open to most styles...as long as the staff approves of my look!
Where would we find you when you're not at FYidoctors?
When I am not working, I am most likely to be found on the golf course attempting to resurrect my golf game. I love going for a run or a hike, and I snowboard and go skiing in the winter.
Dr. Wilkinson and the whole team at FYidoctors Varsity have special interests in a broad array of eye health conditions, and many have been with this well-known clinic for a number years. They strive to provide a quality experience every time.
Book an appointment with Dr. Wilkinson or any of the amazing staff at FYidoctors Varsity today.