If there's one thing that's clear about ten-year-old Clare Jackson, it's that she lights up every room she goes into. "Clare is a feisty little critter," her mother, Jadi Jackson, explains. "She's lots of fun. Clare has a great sense of humour and she loves going fast. She's also a total adrenaline junkie...she doesn't get that from me". Hearing Jadi describe her daughter, you would never expect to hear that Clare also faces a number of medical challenges including cerebral palsy, scoliosis, bilateral hip dysplasia and Sotos syndrome. She's a force to be reckoned with that thrives off feeling independent and accomplished; she refuses to let anything stand in the way of that.
Finding Ways to Communicate
Clare is nonverbal which means that she can't speak. She communicates with the assistance of an app on her iPad that voices what she wants to say as she selects pictures from the screen. Even though Clare has ways she can communicate, her options are limited which she can find very frustrating at times. One of the ways she expresses that frustration is by throwing things she's holding or has access to, which often includes her glasses. "She's probably gone through about six or seven pairs of glasses". Jadi chuckles as she adds, "she loves to send them flying".
Indestructible Glasses
When Clare's glasses would break as a byproduct of her feeling angry or frustrated it would, in turn, limit her ability to communicate with the people around and leave her feeling even more at odds with the situation. It was a frustrating cycle, especially because glasses play such an essential role in her ability to connect with people around her. "She loves people.," Jadi explains. "That's the biggest thing that motivates her, especially her relationships with her family and friends. Glasses allow her to communicate, they allow her to see, they allow her to interact with people. If she doesn't have her glasses she doesn't have good sight and all those things are going to be limited for her".
After breaking (and gluing back together) another pair of $50 glasses they had ordered online, Clare and her family visited Dr. Thompson at FYidoctors Marda Loop for advice on sizing and options that would be more suitable. Dr. Thompson realized that a more durable pair of glasses would assist in giving Clare the consistent support she needs to communicate with the people around her. He offered Clare a complimentary pair of Nano glasses which are uniquely designed to be virtually indestructible; ideal for many kids, but especially for Clare. Now, after a few months of wearing them, Clare loves her new glasses more and more each day. Her parents have been able to leave the glue where it belongs: in the drawer.
"When life is hard sometimes you forget how good the world is and how good life is," explains Jadi as she reflects on the positive impact that the new glasses have had for Clare. "This is one more example to me of how people are kind and good. There are so many people that are always looking to help and it's great to have one more reminder of that".

The right pair of glasses can have a huge impact on someone's quality of life, whether it's finding a frame that suits your lifestyle or the right prescription that finally allows you to see clearly. Book an appointment online or visit your local FYidoctors to speak to an expert about your eye care needs.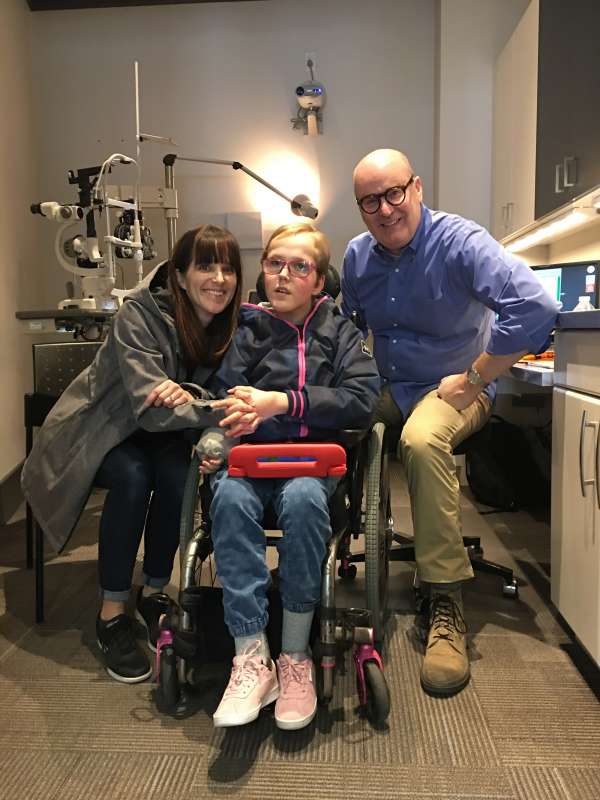 Jadi Jackson, Clare Jackson and Dr. Thompson at FYidoctors Marda Loop