These Morel Eyewear frames are a real show-stopper. Not only do they feature a funky, distinctly different shape, but the emerald green shade is perfectly subdued—while still standing out in all the right ways.
Round frames are truly all the rage in the eyewear world, and this Etnia Barcelona pair fits the bill. The chic, wire glasses are the ideal olive tone that pairs perfectly with any outfit selection.
These lightweight Chloe frames are equal parts modern and classic. Adding a pop of light sea green will take any look to a whole new level, and will also freshen up your facial features.
Whoever said the perfect frames did not exist hasn't seen this simple yet stylish pair of ultralight and durable Rayban glasses. Beyond the universally-flattering shape, this shade of green is muted while still being unique.
NineWest-NW5186-320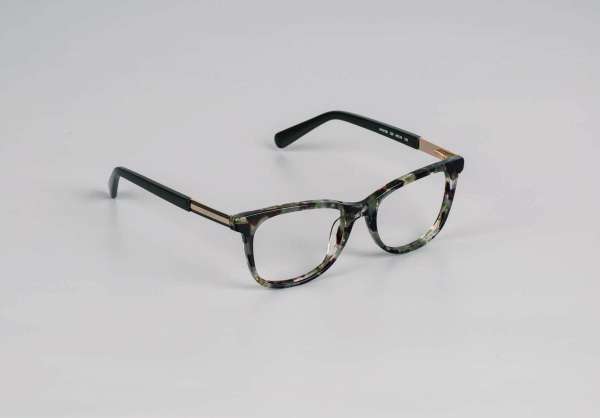 Go green or go home with these tortoise frames by Nine West. The dark green shades keep the frames sleek and understated, which is complemented beautifully by the intricate tortoise design.
How to style green frames
Green glasses are incredibly versatile, which means there are countless ways to incorporate them into your everyday outfits with ease. While green pairs well with other neutral shades, it also compliments pink, orange, and purple. In other words, if you pop on some pink lipstick, purple eyeshadow or an orange sweater, your green glasses will shine extra bright.
Silver and gold accents work wonderfully with green, too. Wearing delicate or chunky jewelry (specifically earrings, which sit right beside your frames) could further enhance and accentuate the green in your glasses.
It's also key to consider which shade of green works best with your skin tone. Generally speaking, those with cooler skin tones should go for blue-based greens, while people with warm skin tones should opt for more yellow-based greens.
We mean green
When choosing the perfect pair of eyeglasses, people typically tend to go for simple shades, like black and brown. Green is often overlooked as a top colour contender, though we firmly believe that shouldn't be the case. After all, green is nature's neutral, and it has the unique propensity to compliment anyone's skin tone, eye colour, and sense of style. Try a pair of green glasses today at an FYidoctors location nearest you!