Making our World a More Accessible Place for the Visually Impaired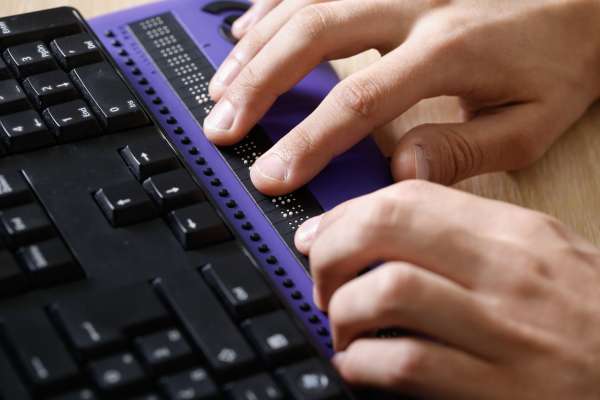 Technology makes life easier for each of us, every day. But for those with a visual impaired, technology might not be as easy to pick up and use.
That's where accessibility specialists come in. Erich Manser is an accessibility researcher at IBM based in Littleton, Massachusetts. He spends his days advising on new technologies that are in the development stage and provides a visually impaired person's perspective.
Erich Manser, IBM Accessibility Researcher
Source: Jaime Cooper, IBM
Manser is legally blind, having been diagnosed at the age of 5 with a degenerate condition called retinitis pigmentosa. This condition changes how the retina responds to light, making it hard to see. People with retinitis pigmentosa lose their vision slowly over time. For Manser, he never felt like he was a visually impaired individual when he was younger, having only given up driving approximately 15 years ago.
"If you can imagine looking through straw covered in wax paper," Manser explained on what his vision is like today. "I can see shapes and objects, and if I'm up close I can see some details."
On a daily basis, the 44-year-old adapts technology on his laptop and other devices to magnify and invert colours so the background is darker and the text is lighter to help him read the screen.
"Magnifying helps me," he said. "I rely pretty heavily on accessible tech."
Throughout his career working in technology companies, Manser often volunteered his time to provide perspective on project development from the vantage point of a visually impaired user. Moving to IBM three years ago to devote his full attention to this passion, Manser works to ensure that accessibility becomes part of the culture of any organization.
"When I meet with a team of developers here at IBM, it's very, very impactful when they see me open my laptop and see me access the application or website they are working on and demonstrate what works well and what doesn't. It seems to carry a lot of weight," explained Manser. "It's one thing for a developer to work on something and theoretically test it with a screen reader. But it's different when they are in the room with someone with an impairment. When I encounter a barrier, such as a button that doesn't use sufficient contrast, it is gratifying to feel it really resonates with the teams. Having it become part of the culture, to interact and demonstrate what works, I can be just as productive as everyone else. It's a levelling of the playing field."
Happily, Manser admits to seeing an overall trend in improving accessibility in both technology and the workplace. He adds that the natural tendency of technology developers to engage in friendly competition generally drives accessibility when it comes to new features that can help those with vision loss.
Accessibility isn't a new prospect for IBM. The company, whose history dates back to the 1880s, is unique in that it hired its first blind engineer in 1914 and was instrumental in development of the earliest screen reader technology, as well as the first rendition of the braille computer keyboard. Fast forward over a century, a few of the projects Manser is advising on currently include self-driving cars and blindness navigation utilities.
In addition to acting as an internal resource for the company's development teams, IBM offers accessibility services and consulting in an attempt to help make organizations more accessible to citizens, employees and other businesses by way of planning, design, development and e-learning services for accessibility solutions that integrate with business initiatives. In addition, the software giant offers guidance on how to develop software and hardware set ups that are designed with accessibility in mind, as well as hosts virtual classrooms sharing presentations, articles, and white papers addressing accessibility.
"The right to access technology and information is fundamental in my mind," said Manser.
For more information on Manser's research, read his blog.