The Journey to Becoming an Optometrist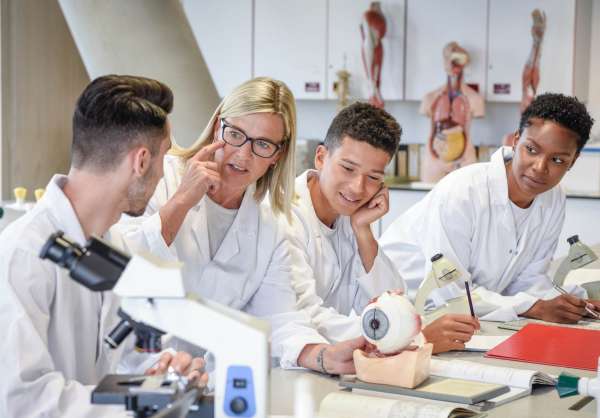 An optometrist is a rewarding career, providing many avenues for specialization in an incredibly fulfilling vocation. The education you get gives you valuable life lessons you'll use for years to come. If you're considering a future in optometry, keep reading. We've have insights from two optometrists in the FYidoctors family, Dr. Russ Schultz and Dr. Krista McDevitt, who share their experiences on the path to their lifelong dream.
Choosing Optometry School
In Canada, there are only two schools of optometry. The University of Waterloo in Waterloo, Ontario and the Université de Montréal in Montréal, Quebec. There are 20 accredited schools in the United States that are recognized in Canada, should you want to get your education south of the border.
The Challenges of the Optometry Program
Much like most programs, getting your education will be a lot of work, but also a lot of fun. As Dr. McDevitt puts it, "Optometry school can be very intensive—it covers lots of disciplines from physics to biology to psychology. It's certainly hard work and stressful at times, but very rewarding to be learning about such an interesting field. 'Eye stuff' is not just eyes. Vision is tied in to neurology, anatomy, pharmacology, and various fields of physics."
Dr. Schultz mentions that the life lessons you learn during these years will benefit you for years to come. "School teaches perseverance, prioritizing, working hard, concentrating, and time management. These skills stay with you through life."
Dr. McDevitt echoes this sentiment, adding, "It taught me perseverance and the importance of expertise and let me start out my career with confidence. Since there are only two optometry schools in Canada, you meet people from all over. [It] is a relatively small group (60 in my day, I think 90 now) so you get to become close. It gave me connections all across the country."
The Fun Flipside of Post-Secondary
Not every second at school is about classes and studying. There are many opportunities to have fun while you're there. Since the programs are usually so small, you get to be part of the community as you learn about the industry. One of Dr. Schultz's favourite things during school was the increasing level of patient involvement and getting practical experience solving patients' problems.
Dr. McDevitt valued the social aspect of school as well, "There are tons of social traditions from Halloween parties to potlucks to hockey tournaments, so there are always lots of fun social stuff on the go to let off steam from the more intensive aspects of the program."
The Post-Secondary Pathway to Optometry
To be eligible for an optometry program, you first must complete a bachelor's degree; usually one with a biological sciences or medical emphasis. Then you need to pass the Optometry Admission Test (OAT), four computerized tests that evaluates your reading comprehension, natural science knowledge, physics understanding, and quantitative reasoning. This test score accompanies your application to your chosen program.
Once you are accepted into a Doctor of Optometry (OD) program, you will spend 4 years there, learning physics, anatomy, physiology, optics, and diagnosis and treatment or management of ocular disease. Throughout your studies, you will gain the knowledge you need to be an optometrist, as well as get vital hands-on experience with the tools you will use on a regular basis. From here, you can choose to begin practicing or do a residency in a specific area of interest.
Working as an Optometrist
After you finish your OD program, the first step is often to join an established practice. Here, you will continue to grow your skills and practice. Many optometrists choose to eventually establish their own practice, giving them the freedom to develop a focus, whether it is general optometry or a specialty like disease management and treatment, low vision, or even pediatric optometry.
Daily Fulfillment
Both Drs. Schultz and McDevitt cite the variety of work and their patients as a reason for continued happiness after years of working in the field. Dr. Schultz says, "Optometry is less about being a technician and more about problem solving. Each patient wants your attention, your opinion, your expertise, and your advice. They trust you to take care of their eyes and vision."
Dr. McDevitt agrees, "It's such a cliché, but the best part about it is helping people. We are so blessed that every day we get to add so concretely to people's quality of lives and help them address concerns about one of their most important gifts—their vision. It's incredibly rewarding and fulfilling. No two days are ever the same. The conditions that affect vision and eye health are so varied that you never know what is going to come through your door."
Flexible Hours & Financial Security
Optometry certainly has its perks. You often have control over how many hours you work, which allows for a great quality of life. Dr. McDevitt likes that it allowed her to travel when she was younger and now allows her to spend more time with her children. Dr. Schultz values the team environment and the financial security it offers. They both admit that interacting with patients is what gets them excited to head to the office every day. As Dr. Schultz puts it, "Optometry practice involves investing in the lives of your staff and patients. If you like interacting and networking with people, then optometry is for you."
Advice
For anyone considering optometry, the best thing you can do is stay in school, take physics, and work to keep your grades up. The better your grades, the more options you have as you enter post-secondary and your Doctor of Optometry program. Dr. McDevitt suggests asking an optometrist if you can spend a day shadowing them at work. Most will be happy to do this, giving you indelible insight into the profession and whether it suits you or not. They can also answer any questions you may have, giving you the extra assurance that being an optometrist is an incredibly rewarding job, every single day.
For more information on becoming an optometrist, visit the Association of Schools and Colleges of Optometry or download their career guide here. For more information on working with FYidoctors, visit our careers page. If you are interested in other options within the field of eye and vision care, read The Differences Between an Optometrist, Optician, and Ophthalmologist.