Why Is It Important to Have Your Child's Eyes Checked Routinely?
Posted on April 9th, 2015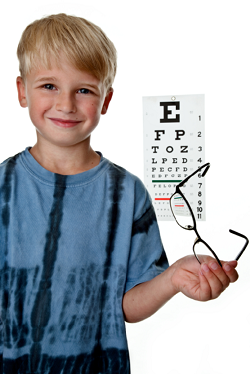 Vision care is important at all stages of life, and good vision health starts with regular eye exams. Even if your child does not need vision correction, eye exams are important for the prevention of infection and disease that could lead to serious vision problems in the future. Here are some of the other reasons routine exams are a necessary fixture in your child's health:

Vision problems can lead to poor school performance: Sometimes children will perform poorly in school because reading and seeing the board are difficult. This can make it hard to participate in class, but many children will not vocalize issues related to vision. Your child could be misdiagnosed with a behavioral disorder because of slipping grades when the solution could be as simple as a new pair of glasses.

Eye exams detect problems early: Although it is rare for children to contract most eye diseases, they can still arise. The best possible treatment is early detection, as vision loss associated with these issues is often irreversible.

The eye doctor can encourage good habits: When the optometrist sees your child, he or she can provide an overview of the necessary steps for good eye health that should be practiced at home. This is especially important if your child wears corrective lenses, as good care for eyeglasses and contacts is essential to proper vision correction.

Vision correction can never come too early: A common misconception is that wearing glasses through childhood will only make the vision worse. A child's eyeglass prescription can change through time due to a number of factors, but wearing glasses does not accelerate vision loss.

To get the superior vision care your child needs, schedule an eye exam with FYidoctors. Contact us on our website to learn how our advanced vision testing technology can make a difference in your child's life.