Why Volunteerism is Important to Our Local and Global Communities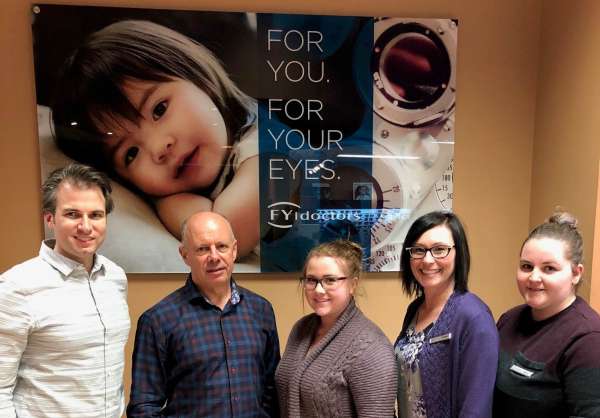 Volunteering can be as simple as taking a few moments to shovel your neighbour's driveway or giving someone a ride to an appointment. No matter how you volunteer your time, your effort and contribution is recognized by the community.
For National Volunteer Week this April 15-21, we acknowledge the contributions of our dedicated doctors and staff right here at FYidoctors, who volunteer in a myriad of ways.
FYidoctors is committed to engaging with the community through volunteerism. Partner organizations like Foundation Fighting Blindness (FFB) and, in past years, Might Peace Day rely on the devoted work of volunteers to achieve their goals. Every year, FFB requires people to donate their time to helping at Comic Vision, Ride for Sight, and Cycle for Sight events all across Canada. These events raise funds to support sight-saving research. Similarly, Mighty Peace Day in Grande Prairie invites youth to a biennial event that inspires them to be proactive about finding solutions to the world's environmental, social and health issues. Rather than buy tickets to the event, youth must volunteer to be eligible to attend.  
Volunteering at home
For the past 15 years, both teams at FYidoctors Shoppers Mall and Town Centre in Brandon, Manitoba have been volunteering their time at the local Preschool Wellness Fair. We spoke with Dr. Beaumont of the Shoppers Mall location about the staff's involvement with this event.
"[It's an] annual event where children 3–4 years old are able to come for screening exams in a variety of health areas," Dr. Beaumont explains. "We do preliminary eye testing to determine whether further, more detailed examinations are required."
A combination of doctors and staff from both Brandon clinics volunteer at the event every year.
In addition to eye exams, children can also get auditory and dental exams from other healthcare providers.
"It's important to be involved in the community and to educate parents on the importance of eye health and vision in their children," Dr. Beaumont says. "Volunteering is essential for our communities to function properly. This is just one little way that we can help out."
The team's favourite part about volunteering at this event?
"We enjoy getting out into the community and spending time with the kids."
Volunteering abroad
In addition to local endeavours like that of the teams in Brandon, some FYidoctors staff embark on volunteering adventures in communities around the world.
Last July, FYidoctors' own Dr. Annu Kaul embarked on her fourth journey with TWECS Canada on a mission to perform free eye exams and give refurbished eyeglasses to anyone in need. In Lima, Peru, she volunteered her time, finances, and expertise to provide eye care to the less fortunate in the area. Many happy Peruvians left their exams with glasses in hand to support their healthy vision.
More recently, a group of FYidoctors eye care professionals joined Canadian Vision Care in late January on a journey to Montego Bay, Jamaica, for a similar mission. Within just four days, these professionals assisted over 1,000 patients with eye exams, distributed 194 reading glasses, and distributed 271 custom prescriptions.
We are proud to have such dedicated professionals working on the team here at FYidoctors, whose volunteering has supported the healthy vision of individuals and communities worldwide.
For more information on how FYidoctors supports different communities, you can visit our community support page or read our blog about Mighty Peace Day.