Dr. Errin Bligh understands exactly how you and your family are feeling as you arrive for your optical check-up. As a child, Dr. Bligh was told she was nearsighted. While myopia is a very common eye condition, she eventually undertook laser corrective surgery to aid her eyesight. Dr. Bligh's experience with vision problems during her childhood inspired her to pursue a career finding eyecare solutions for her community. She brings her empathy, expertise and passion for proactive treatment to the new FYidoctors location in Granville Mall.
What's your current role at FYidoctors?
I am a Doctor of Optometry at FYidoctors – Granville Mall and Fyidoctors – New Westminster.
Briefly describe your educational background and training locations.
I have an Undergraduate in Genetics from the University of Western Ontario and a Doctor of Optometry degree from University of Waterloo. I completed training in Mobile, Alabama, working closely with ophthalmologists specialized in retina, neuro-ophthalmology, and oculo-plastics.
What makes your clinic a unique place to work?
All the doctors at my clinic in Downtown Vancouver, which has two optometrists, and my clinic in New Westminster, with six optometrists, are women. This was a happenstance, but I believe that it contributes to a supportive environment with a particular focus on eyecare for families.
What made you want to work in eye care?
My own experience with increasing myopia through childhood and eventually pursuing laser vision correction led to my desire to help others with their sight.
What do you love most about your job?
Vision is arguably our most important sense; improving it can make an impactful and often immediate difference in someone's life. While this instant gratification is part of what I love about my work, helping people take steps to preserve their vision long-term brings me even greater joy. This is what drives me to continue providing thorough and proactive care to my patients.
What's one of the most challenging parts of your job?
Performing a necessary test or procedure on a screaming two-year-old – but the rewards of pediatric work are overwhelmingly worth it.
What's your personal eyewear style?
I would describe my personal eyewear style as "wanna-be art critic."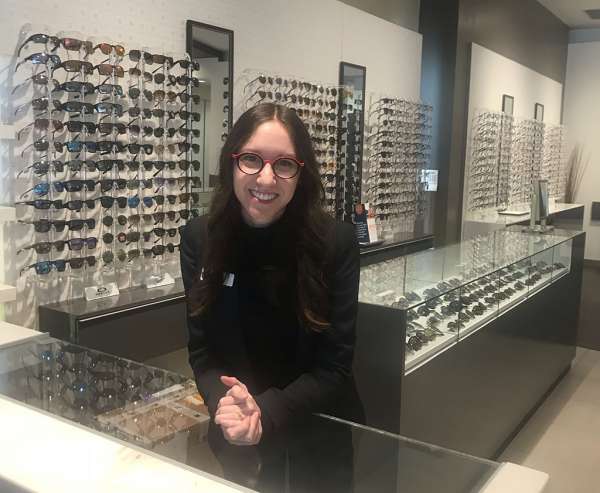 Where do you see the future of eye care going?
I see lots of opportunities for different modalities of treatment. For example, we are already seeing the initial stages of the development of contact lenses that release medications. I also see an increasing value in genetic testing and other supplementary diagnostic procedures.
What is the most important advice you want to give your patients?
Don't take your eyes for granted. Vision loss from eye disease may be preventable, but it is often irreversible once it occurs. Regular eye exams can help detect changes sooner. Also, for you contact lens wearers out there, please don't over-wear your contacts. This increases your risk of eye infections. Also, don't discard them in the toilet, which is contributing to microplastic waste in the oceans.
What's one of your favourite moments from working at the clinic?
Seeing a child's visual performance and/or behaviour improve as a result of my work is always a beautiful thing.
Where would we find you when you're not at FYidoctors?
When I'm not at FYidoctors, you can find me trying out what's new in the Vancouver food scene or exploring the built world with my husband, who is a local architect.
To get to know Dr. Errin Bligh and her team better, or to book an appointment, stop by the practice at Granville Mall.