Back to Community Company Highlights
World Sight Day Challenge Spotlight: McKenzie Towne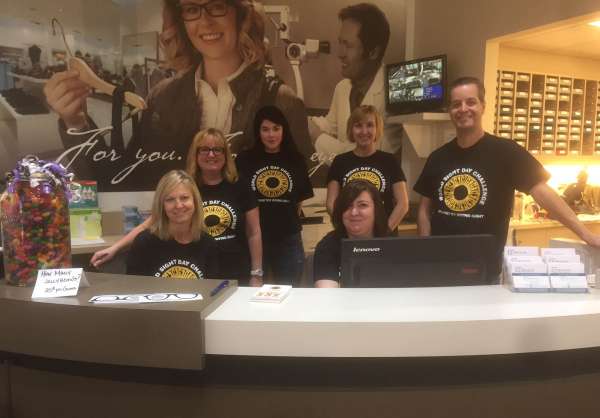 If you had to explain OGS to someone who doesn't know what it is, what would you tell them?
Optometry Giving Sight is an organization that provides third world countries with the gift of sight by providing basic eye care services such as eye exams and prescription glasses, establishing local vision care centres, and training new eye care workers.
What does it mean to you and your clinic to be a part of the World Sight Day Challenge?
We feel the true pride and joy of helping someone see for the first time. Since we are in the eye care industry, we understand the value that good sight provides to people. Simple things, for example, like how kids' faces light up when they see clearly for the first time. We know that our fundraising efforts are providing that feeling of clear vision, providing care for people around the world.
What has the community response been to your fundraising efforts?
We have seen an overwhelmingly positive response! People are happy to give generously to this cause.
Have you heard any good news stories about how the funding is being used around the world?
One thing OGS does to improve vision care situations is to provide skills training and education to local healthcare staff.  This is something that the staff really identify with because it parallels what we do; it allows these individuals to provide primary eye care services to their community, and empowers them to improve the lives of the people around them.
What are you doing this year to top last year's fundraising goal? What is this year's goal? 
This year we've done a book sale and a jellybean guessing game (and it's an impressively big jar of jellybeans :)). Our goal was to raise $500, which we have already passed!
One of the FYidoctor's initiatives for WSD Challenge is that the location that raises the most money will play host to one of FYi's CEOs for a day (and be able to make that CEO do whatever they want). Last year the winning location made the CEO dress up as a Frozen character and pose for photos with children. If you win a CEO for a day, what will you have them do? 
I'd like to put them through our "Patient Pathway" training program, so they can see and do all of our daily tasks!
How does your clinic encourage your patients and customers to donate?
We accept donations of used glasses to be gifted to the people around the world who need them. And we explain very simply that "Just a $5 donation gives an exam and glasses to someone in need."  That's usually enough to get someone to donate.
Why is fundraising for Optometry Giving Sight so important to you and your team?
We recognize how important sight is to living everyday life.  In our office, we get to see firsthand how clear vision can change someone's circumstances here in Canada, and we know that the benefits are even more pronounced for the recipients of our fundraising.
Is there healthy competition amongst the clinics jostling for the title of most money raised? 
Definitely!  We try to keep tabs on the fundraising initiatives that other clinics are using, and sometimes adopt their tactics or try to improve upon them to enhance our own fundraising abilities!
What would you say to someone interested in getting involved?
Come into your local FYidoctors and ask us about our fundraising initiatives, or visit www.givingsight.org for information on how you can get involved directly with OGS.
Any favourite moments in your fundraising endeavours over the years?
World Sight Day itself always has a great vibe!  This year the official day is October 13, and if you visit an FYidoctors clinic, you'll be sure to feel the energy!