Sweet Potato & Orange Pepper Soup
Posted on April 9th, 2015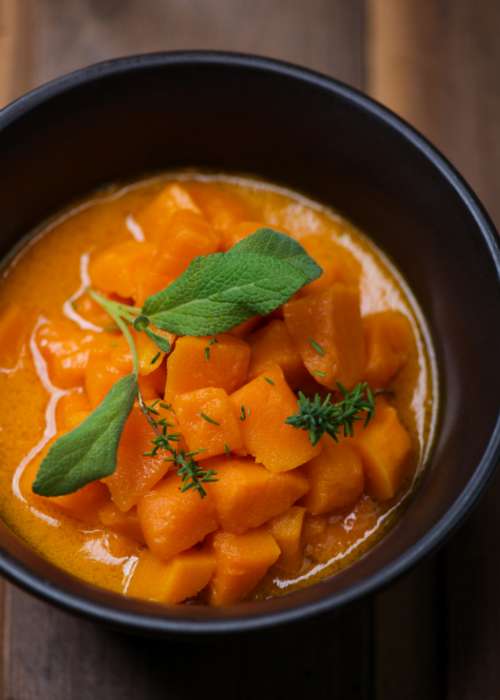 Eye health is a good indicator of your overall health. Keep both in check by eating right. This eye healthy recipe is not only good for you but it's delicious and gorgeous.
Serves Two
Ingredients
2 tbsp olive oil or canola oil
½ large onion, chopped
2 celery stalks, chopped
2 carrots, peeled and chopped
4 sweet potatoes, peeled and chopped
2 orange peppers, chopped
¾ cup white wine
1 orange peeled and chopped
2 tbsp fresh ginger or 2 tsp ginger powder
4 cups low sodium vegetable or chicken stock
½ cup whole-wheat croutons
¼ cup chopped fresh parsley
Directions

1) Sautee onion, celery and carrot in 2 tbsp canola or olive oil on med-high heat for 3-5 minutes, or until the onion is translucent.

2) Add sweet potatoes, orange peppers, white wine, orange and ginger. Cook for 3-5 minutes, stirring.

3) Add stock. Bring to a boil and then simmer on med-low heat for 30-40 minutes or until potatoes are tender and cooked through.

4) Remove from heat. Puree in a blender, food processor or using a hand blender. Add more stock or water as necessary to achieve your desired thickness.

5) Return to low heat for 2-3 minutes to reheat.

6) Garnish with whole-wheat croutons and chopped parsley.
Tip: Chop raw baby spinach and place at the bottom of the bowl. Add hot soup. Let sit for a couple of minutes to soften spinach. Enjoy.