In April we launched our Virtual Personal Shopping service, which allows you to try on glasses online with an elevated experience. Once you book your consultation and complete a style questionnaire, you are paired with an eyewear consultant who will help you discover unique frames, picked out just for you.
Now, we're offering a one-of-a-kind try-on feature to supplement your experience! You can try-on frames virtually using our live video simulation. You will be able to see how they look on your face shape, as if you're physically in the store.
Curious how it works? We've put together a behind the scenes guide so you know exactly what to expect when you launch the virtual glasses try-on.
Step 1: Open the Try-On in your browser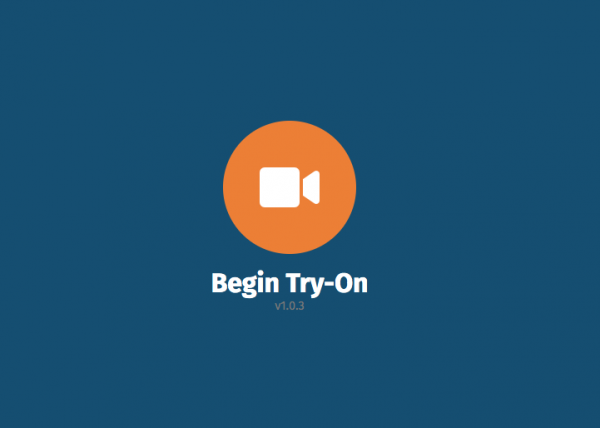 You will be sent a link in your confirmation email to begin your virtual shopping session. Once you start the software, you will be greeted by this screen. Click on the orange circle to begin your try-on experience. View the technical requirements here for which browser supports the system.
The function of each icon in the virtual try-on browser.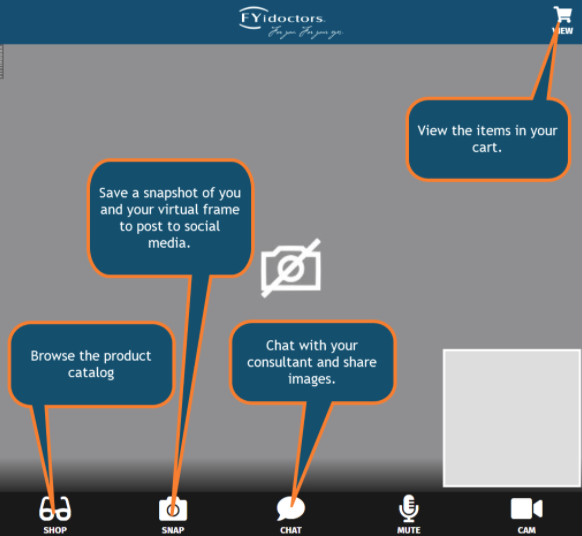 Step 2: Shop & View Your Personalized Suggestions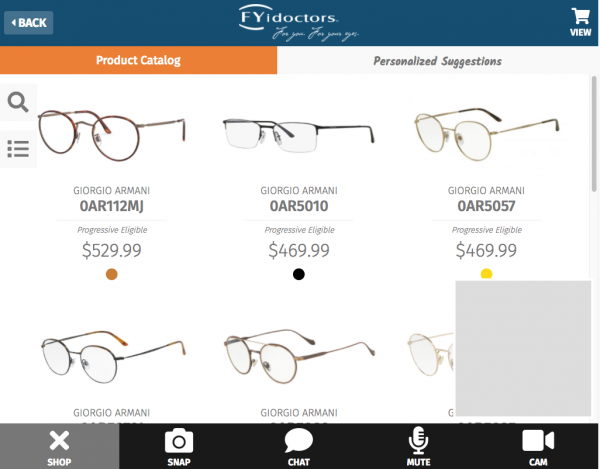 You'll see a menu at the bottom of your screen. Click "shop" to browse hundreds of frames! You can choose to look at the entire product catalog, or if you toggle over to "personalized suggestions" you can find the selections your eyewear consultant has picked out for you. Once you've decided which ones you want to try on, click on that item.
Step 3: Try them on for size!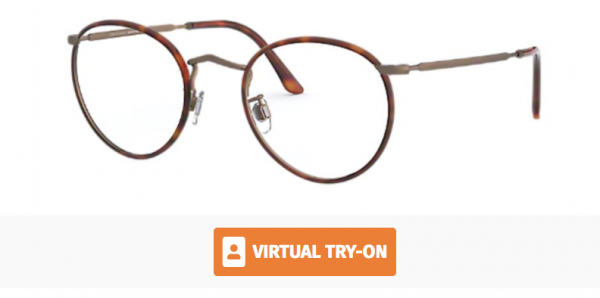 Once you've selected the item, you will see an orange button that will launch the virtual try-on. Click this to be transported to a live video with the frame simulation. You will see the specs on your face, in 3D image! Want to compare a few frames side by side? Snap a picture using the "photo" button on the main menu. You will have the option to download the photos for your perusal.
Step 4: Order your New Glasses
Place your order with your eye wear consultant! They will be on the video simulation with you and can explain any unique features about each frame. Once you've decided on your favourite, they will process the order. You can see the quoted price if you click on the shopping cart logo in the upper right corner.
Step 5: Enjoy your specs!
You can pick up your frames curbside or have them delivered right to your door. We provide a 100% satisfaction guarantee. We offer you 90 days to return your purchase for a full refund. Remember to share a photo in your frames using the hashtag #FYiPersonalEyes on your social channels so we can see your winning frame!
Ready to begin? Book your virtual shopping appointment today.