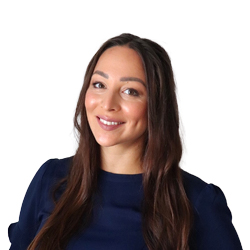 Dr. Sarah Farrag is originally from Halifax, Nova Scotia and is excited to be practicing Optometry in her own hometown. She graduated with honours from the University of Waterloo's Doctor of Optometry program in June of 2015.
Before attending Optometry school, she received her Bachelor of Science with honours in Chemistry, and a Graduate Diploma in Orthoptics and Ophthalmic Medical Technology, both at Dalhousie University. During this time, she also certified as an Orthoptist, an ocular health professional specializing in the diagnosis and management of disorders affecting binocular vision and ocular motility. These are areas in eye care that she has a continued interest in. As part of her optometric training, she also completed a 4-month internship focused on ocular disease and therapeutics in St. Petersburg, Florida, where she gained expertise in many systemic diseases that can affect the health of the eyes.
In addition to routine optometric care, Dr. Farrag also fits specialized rigid and scleral contact lenses for many corneal degenerative diseases, such as keratoconus or post-corneal transplant eyes and enjoys being able to provide different optical solutions for these patients.
In her spare time, she enjoys running/fitness, traveling, playing piano and spending time with family. Dr. Farrag is seeing patients at the Bedford, Portland Street and Alderney Drive locations.