Welcome to a new era in eyewear. The DUO-FORM™ has changed the way we see not only lens technology, but life itself. These revolutionary progressive lenses are helping patients see their world at every distance with completely natural, comfortable and customized vision.
Change the way you see the world
Stable view
Less swim and sway when moving between distances
Excellent depth of vision and sense of security when moving around
View expansion
Greater field of vision than any other progressive lens
Both the front and back sides of the lens are personalized based on as worn measurements to ensure that your viewing experience is optimized and comfortable.
Auto adjust
Reduced light dispersion enables effortless focusing from near to far
Eyes work together for optimal binocular vision and increase overall comfort
What are progressive lenses?
Many people who have trouble seeing both near and far objects opt for progressive lenses, which offer far more natural vision than older bifocal and multifocal lenses. Progressives allow your eyes to move seamlessly between distances without lengthy adjustment periods. They are an ideal solution for those suffering from: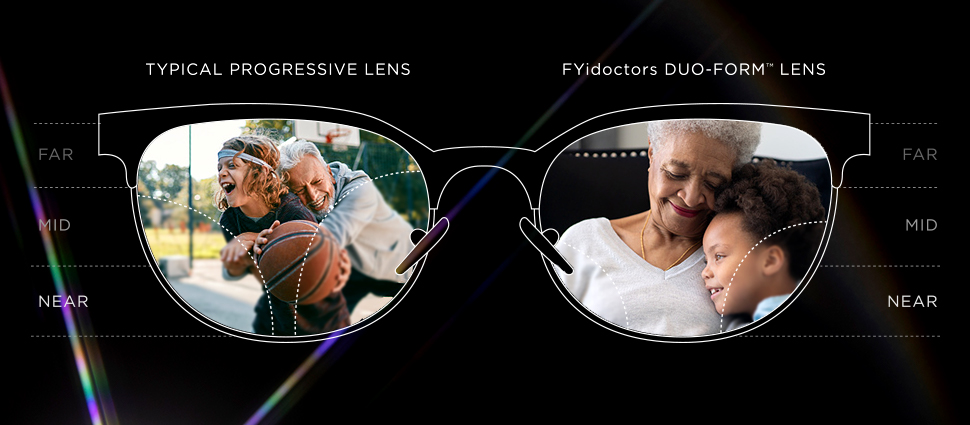 How it works
The upper section of the lens provides the strength, or power, to see distant objects while the lower section does so for nearby objects. The middle section, or corridor, helps you see objects at an intermediate distance with a smooth, natural transition in-between.
See life at its best
Every eye is unique, just like a fingerprint, and should be treated as such. Each DUO-FORM™ lens is customized to your specific vision needs thanks to recent ground-breaking innovations in technology. These features are vastly enhancing the way our patients see the world:
Dual Surface Design
The
DUO-FORM™
lens is customized on both the front and back side, a patented design that ensures more usable light reaches the eye. The result is vastly decreased peripheral distortion and a more natural, comfortable transition between distances.
Fusion Technology
Although 73% of people with presbyopia have different prescriptions for the left and right eye, progressive lenses do not accommodate each eye's specific vision needs—until now. Cutting-edge fusion technology, exclusive to DUO-FORM™ lenses, considers your left and right prescriptions independently. The lenses customize the corridor length and progressive power distribution according to your needs for enhanced depth perception and optimal binocular vision.
Lifestyle Designs
DUO-FORM™ lenses are not only customized to your eyes, but to your unique lifestyle and frame choices as well.
FYidoctors
offer 3 easy-to-select options guaranteed to help you enjoy the things you love to the very fullest.
EVERYDAY
Best option if you prefer only one pair of general-purpose lenses
Evenly balanced between distance, intermediate and near vision
OUTDOORS
Ideal for outdoor sports, activities and professions
Preferred by active and dynamic wearers
Optimized for distance viewing
PRECISE
Optimal for detail-oriented professions such as IT workers, mechanics and accountants
Perfect vision for hobbies, reading, puzzles and crafts
Optimized for near and intermediate viewing